Track Listing
[with original notes by Leo Kottke]

SIDE ONE

IF MOMMA KNEW
One of the first songs I wrote. The second actually, around 1962. At the time I considered evil the only virtue worth cultivating.

SO COLD IN CHINA
The title lyric and, consequently, the idea for the song, were stolen from somebody who sang at the Ontario Place in Washington when John Hurt worked there.

FURRY JANE
There's not much to say about this one. Its origin was in a couple of nightmares, one of which nearly got me.

CIRCLE 'ROUND THE SUN
The majority of the lyrics are traditional. Another early song.

SWEET LOUISE

THE PRODIGAL GRAVE
This was written in a fit of terror while trying to calm down. It originally contained many more verses which later served only to confuse, so they were discarded.


SIDE TWO

EASTER AND THE SARGASSO SEA
Columbus got stuck in this sea of weeds. There was no wind. Johnny Quest often goes there on business. Consequently resurrection here is not only promising but necessary.

SUNRISE

LIVING IN THE COUNTRY
Seeger's great contribution to the 12-string. Originally recorded as a guitar duet with Frank Hamilton. Later recorded at high speed with accompanying whistle.

SAIL AWAY LADIES
This is John Fahey's arrangement done on Vol. 4 Takoma, with Al Wilson and his Veena.

THE LAST STEAM ENGINE TRAIN
Fahey's contribution to steam engines. (Vol. 3 Takoma), somewhat augmented and re-arranged.

YOU LEFT ME STANDING
in A.

MARY MARY
I sometimes think people like to hear this song for the same reason they like to watch accidents.

Cover from 12 String Blues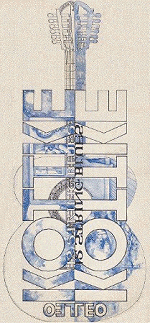 Production Credits:
Cover design: Annie Elliott
Recorded live at The Scholar Coffeehouse, Minneapolis, Minnesota.
All songs excepting numbers 3, 4, and 5, side two, © Symposium Music, BMI 1969
Mastering by Sweet Jane Ltd. Dave and Sylvia Ray
Oblivion Recording Company, 247 Cedar Ave. Minneapolis, Minnesota (Obl-S1)
Liner notes:
Excluding three instrumentals, this performance was taped live at the Scholar Coffeehouse in Minneapolis, one of the oldest coffeehouses in the country and one of the very few to survive electricity and liquor licenses while maintaining a respectably burdensome debt. Many of the sounds that sometimes characterize performances in the place though are absent from the record-random hummings from the piano when it feels like it, the sound of one or two people who eschewed the door for the plate glass window, and in Kottke's case, bizarre speech noises from the stage between songs. (These may be released later in Paoli, Penn.) Despite these "artifacts", coffeehouses and auditoriums are the only places where a guitar player can expect a quiet audience. Still, as in its now distant past for a younger Robert Zimmerman [a.k.a Bob Dylan -- BH] or John Koerner, the Scholar audience is appreciative and quiet.