SIDE 1

(Instrumental Break)

1. Morning Is The Long Way Home
(Kottke) 3:40

2. June Bug
(Kottke) 2:12

3. When Shrimps Learn To Whistle
(Kottke) 3:30

4. Room 8
(Kottke)2:58

5. Cripple Creek
(traditional; arranged by Leo Kottke/ASCAP) 1:55

6. Pamela Brown
(Tom T. Hall, Hallnote Music/BMI) 4:03

7. Standing On The Outside
(L. Kottke - M. Kottke) 2:31


SIDE 2

1. Grim To The Brim
(Kottke) 3:10

2. Power Failure
(Gary Booker - Keith Reid, Chrysalis Music/ASCAP) 2:22

3. You Tell Me Why
(Ron Elliot, Clears Music, Inc./BMI) 3:56

4. Why Ask Why?
(Norman Gimbel - Ken Lauber, Ensign Music Corp./BMI) 2:09

5. Open Country Joy (Constant Traveler)
(J. McLaughlin, Chimnoy Music/BMI) 3:39

6. All Through The Night
(Trad. Arr/Kottke) 1:38

7. The Scarlatti Rip-off
(Kottke) 3:26


Cover from Did You Hear Me?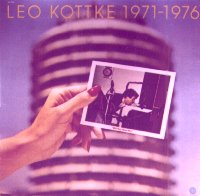 Production Credits:
Producer: Denny Bruce
All Leo Kottke compositions published by Overdrive Music/ASCAP
Art Director: John Van Hamersveld
Photography: Bob Seidemann
Snapshot of Leo Kottke: BBC Radio, Manchester, England (Photo by D. Bruce)

All selections contained herein were previously released on various singles and albums.

Liner Notes:
Every record I've made has come back to haunt me: clams I didn't spot the first time through; mixes where we went one of two ways, and went wrong; and finally some tunes on every record that worked out just right. So six of these re-releases have been edited or re-mixed according to the way they feel to me today, or according to how they are now performed. The rest felt OK the first time. -- Leo Kottke
The guitars on this record are: Bozo, NBN, Guild, Martin 28" conversion, Whitebook, Noble, Gibson B-45, Lo Prinzi and Baldwin 12 strings; Gibson Gospel and Mark IV, Kohno and National steel six strings.