Leo Kottke: Looking On The Bright Side
by Rick Mason
Leo with mandolin
(photo by Bruce Boruch)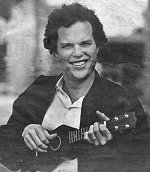 Leo Kottke's always had this problem with his image. At various times he's been accused of being crazy, manic-depressive, terminally suburban, a genius, eccentric, Leon Redbone, a hermit, weird, John Fahey's alter ego and having a voice that "sounds likes geese farts on a muggy day." It's not a particularly standard collection of epithets, especially for a world-class guitarist whose work is often discussed in almost reverential terms.
But nothing about Leo Kottke is really standard, including a non-musical lifestyle that is at times so standard that it enters the range of abnormality. Record companies don't know what to do with him - his music defies commercial categorization and usual marketing ploys. And it hasn't helped any that he doesn't always plug into anyone's version of acceptable thought and behavior, even his own. In fact, Kottke himself has been the source of some of the embarassing remarks floating around about him - the geese farts crack, for example.
And he has cultivated habits that only aggravated his reputation for strangeness. He writes self-deprecating liner notes, tells weird stories onstage and then virtually disappears into the Minneapolis suburbs for long periods, almost as if he were trying to make himself into a scarce legend in the grand tradition of J.D. Salinger.
All that's in the past now. Well, at least some of it anyway. Leo Kottke is alive and fairly well. He feels better than in quite some time, thank you. There's a new Kottke LP out called "Guitar Music." And he's given up - at least temporarily - trying to figure out why the universe works the way it does. As a result, his chronic depression has lifted, revealing some sort of contentment and renewed drive.
"I've given up on trying to get a grip. I can't," Kottke says as he sips a screwdriver in an Uptown Minneapolis bar on a sunny late June afternoon. "The more I tried to get one, the gloomier I got. There's no way to understand it. More than anything, I think depression is just real familiar and to be anything but depressed was unfamiliar. So you get blue as fast as you can. You get homesick, ya know. I think anybody is like that. We all get hooked into something. It might be the blues or calm or cheer or anger or some combination. I think what makes us change is the routine gets a little dull, no matter what it is that you're hooked on. I'm exactly the same, but I don't indulge myself anymore.
"The trick is not to think you're ever gonna come to a solution. In real rational terms, it's a good idea not to think too much. Remember that you are your body - at least that's what everyone else thinks ya are - You just sit there and grow hair and get hungry and sleep. I've always enjoyed all of that stuff."
Besides hoping for some sort of elementary sense, Kottke's never made many demands on life. Give him a guitar, and he'll go away and not make a nuisance of himself. But some of his fans - especially those in the Twin Cities - have complained that that in itself has been a najor source of frustration. After all, Kottke got his start playing in local coffeehouses like the late, lamented Scholar. In recent years, however, he's been a virtual recluse when off the road. He goes home to his wife and two kids in Minnetonka, and as far as his fans are concerned, he might as well be living in Bulgaria.
"I just haven't been around that much," he says. "I play around Christmas and avoided, as much as I could, playing around town for the last few years. I just didn't want to feel that this was a place I could work. I wanted it to just feel like Minneapolis, ya know, where I live. I wanted to have by own place, a hometown."
In a very direct manner, Kottke divorced himself from the local music scene that spawned his career. And now he feels entirely apart from it.
"I think the local music scene feels that also, if they give a shit at all. When I'm at home, I tend to just stay at home because for me it's like a vacation. I don't hang around. I don't go out and that's something I'm gonna change. I miss it, I guess. I used to play a lot around here. I've seen John Koerner come back here. Bob Dylan came back - more or less - and I can't help but wanna come back. By not playin' I won't turn this place into a job, but I run the risk of turning it into another motel, where I just sort of sit. I'm bored ya, know, just hangin' out in a tree somewhere. I wanna get out and do something."
This is major news. Having Kottke back in the local clubs will be something like finding a forgotten case of Dom Perignon stuffed under the sofa. He's not exactly sure what he's going to do, but it will probably involve playing guest sets and working with old friends like steel guitarist Cal Hand and bassist Billy Peterson.
Representative of this new, more public and (dare we say?) More optimistic Kottke, is his latest album. "Guitar Music" is as straightforward as its title. It's entirely instrumental, and his guitar work seems more assured and focused than it has in his last several efforts. In feel, if not exactly in style "Guitar Music" is reminiscent of Kottke's seminal "6-and 12-String Guitar," the so-called "armadillo record" on John Fahey's Takoma label that established Kottke as a guitar heavyweight.
"It's mainly a Gibson album," kottke says of the new disc. "I got a six-string Gibson (a pre-war J-45) that was made about the same year as my old 12-string, and it has some characteristics to the sounf without being a 12-string. I love old Gibsons. They're very hard to find and this is one that I've got that works. Also, I found it a lot easier to record it and just stuck with that."